The Digital India Blockchain Conference which took place on May 11th turned out to be a success with global experts gathering with the core community in Bangalore for a day filled with captivating discussions. Heading speakers included Shiv Agarwal, Founder of EarthId and President of the Government Blockchain Association, Vijetha Shastry from NASSCOM, Gnana Lakshmi T C, Leadership Fellow, Women Who Code and Yathish Nagavalli from Huawei.
"I have been a part of Women Who Code for more than four years now and I have been fortunate enough to lead the Blockchain track community this year which speak to the core work of WWCode – to bring collective minds together to grow and strengthen skills. We are extremely excited to partner with the Digital India Blockchain conference which will help more women get access to great minds and industry experts in the field of Blockchain. As global communities, this would give us great opportunities to support and grow together in this game-changing technology," Gnana Lakshmi T C, Leadership Fellow
The first edition of Digital India Blockchain Conference saw over 120 delegates from the core blockchain community in India, and the UK, as well as experts from various parts of Europe, gathered for a day filled with interesting discussions. The star line-up was the brainchild of EarthId CEO, Shiv Aggarwal.
The speaker line-up included prominent names such as Sarat Chandra from Fumae, Gokul Alex from PWC, Pritam Dutta from Kimberly Clark, Prasanna Lohar from DCB bank, Vinayaka Pandit from IBM Research Labs, among others.
One of the most anticipated panels of the day titled 'The enabling role of Government in developing the blockchain industry in India' with Sarat Chandra, Shiv Agarwal, Jaideep Reddy and Siddhi Trivedi, all of whom had practical experiences from pioneering this field in their respective jurisdictions.
Another highlight of the day was the announcement of the launch of EarthId in India and their plans to revolutionize the way corporations and customers see data and manage their identities, through blockchain.
Shiv Aggarwal, CEO of EarthId, explained how EarthID will make us rethink the way identification and authentication process should be organized with the help of blockchain.
"Myearth.id is a decentralised identity management platform which is about solving the problem of identity theft and fraud. We are also looking to provide universal ID to all human beings on earth. As of today, lot of people don't have an identity because of that they are not able to use global services. In India we have lot of people living below the poverty line because of which don't have the right identification. They miss out on a lot of government initiatives. Earth.ID is about providing an identity which is secure, which is digital in nature. So that people irrespective of their caste, creed and social status are able to use services. GBA is a global non-profit organization. It has more than 100 chapters across the globe and 7000 members. In India alone we have 4-5 chapters in India. We have been working with the Government of Karnataka to get birth certificates of children on the blockchain. So when the government starts any new initiatives say for vaccination,  healthcare these children are able to benefit it.  Blockchain will help in increasing outreach of government initiatives for the welfare of citizens." said Shiv Aggarwal during the announcement.
The Blockchain Innovation Challenge:
The event witnessed 'The Innovation Challenge' in which over six startups from the blockchain space in India showcased innovative ideas. Where participants won cash prizes, 1000$ in AWS Credit and an invitation to network and participate in the next event in Europe.
The Digital India Blockchain Conference brought delegates from all over the world and was deemed a success by the organisers. It is expected to return in Europe with greater size following the successful launch.
Name of the startup that won Innovation Challenge: ChitMonks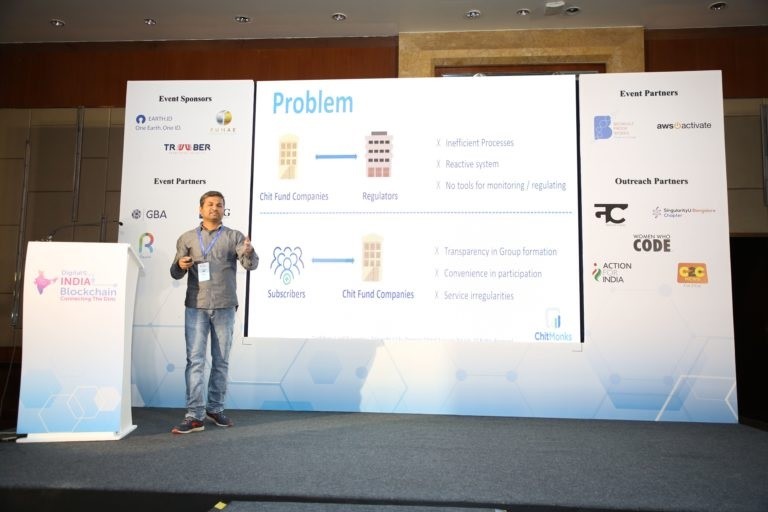 [/vc_column_text][/vc_column][/vc_row]